Mdh Pav Bhaji Masala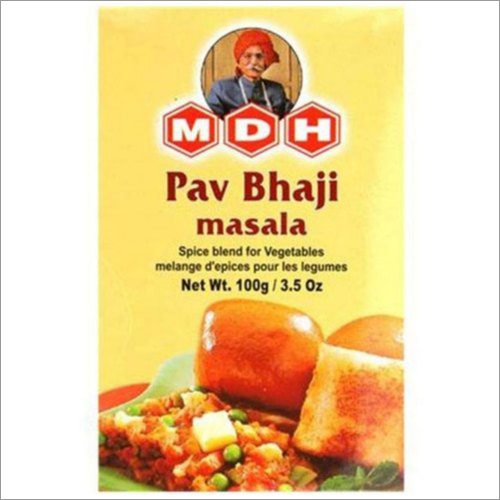 Mdh Pav Bhaji Masala
Product Description
Pav Bhaji Masala is a spice blend used in Indian cuisine to add flavor and aroma to a popular street food dish called Pav Bhaji. Pav Bhaji is a spicy and flavorful mashed vegetable dish served with buttered bread rolls (pav).
The Pav Bhaji Masala blend typically includes a combination of spices such as coriander, cumin, fennel, cinnamon, cardamom, cloves, black pepper, turmeric, and dried red chili powder. The spices are dry roasted and then ground into a fine powder to release the flavors and aromas.
To make Pav Bhaji, a mixture of mashed vegetables such as potatoes, cauliflower, peas, and bell peppers are cooked with onions, tomatoes, and the Pav Bhaji Masala spice blend. The mixture is then mashed and cooked until it forms a thick and creamy consistency. The Pav Bhaji is served with a buttered and toasted bread roll and garnished with chopped onions, cilantro, and a squeeze of lemon juice.
Pav Bhaji Masala is widely available in Indian grocery stores and can also be made at home by combining the desired spices in specific proportions and grinding them into a powder. Making your own blend allows you to customize the flavor and adjust the heat level to your liking.