Food Spices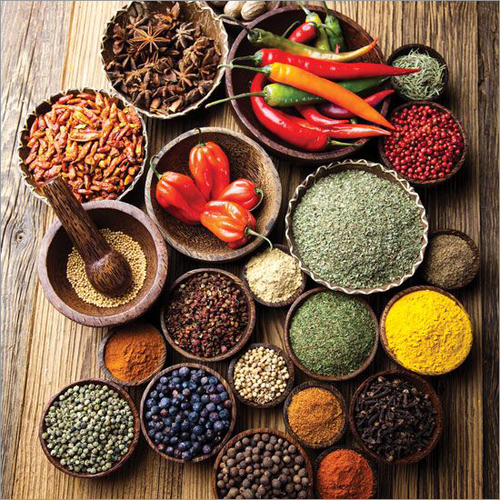 Food Spices
Product Description
Food spices are a type of seasoning that is used to add flavor and aroma to food. Spices are typically derived from the seeds, fruits, bark, roots, or leaves of plants and are often dried and ground into a powder or used whole.
There are many different types of food spices, each with its own distinct flavor and aroma.
Spices not only add flavor to food but also have various health benefits, as they are often rich in antioxidants and other nutrients. However, it is important to use spices in moderation, as they can also be quite potent and may cause adverse effects in large amounts.
FAQ
1. What are spices in food?
Ans - Food spices are additives that can be both natural and synthetic and are used to improve the flavour and scent of food. Spices can be used sparingly to season food or can be blended with other ingredients to produce a distinctive flavour. Cinnamon, nutmeg, paprika, garlic, and cumin are typical spices.
2. What are the health advantages of using spices in food?
Ans - According to studies, utilising some spices can lower cholesterol and blood pressure, reduce inflammation, and even fight some types of cancer. Antioxidants, which are found in spices, can aid in disease prevention.
3. How should I keep my spices for cooking?
Ans - Spices should be kept in airtight containers in a cool, dark location to maintain their flavour and strength. To prevent the spices from losing their flavour, keep them away from direct sources of heat like the hob or oven.
4. What is the ideal way to utilise spices in food?
Ans - Adding spices to your cuisine at the very end of cooking or right before serving is the finest way to use them. This makes it possible to thoroughly enjoy and unleash the flavour of the spices. Additionally, it's crucial to keep in mind that when using spices, a little goes a long way.
5. Are there any issues with food spices' safety?
Ans - Although spices are typically thought to be harmless, there are a few safety issues to be aware of. For instance, some spices, like nutmeg and cayenne pepper, should not be ingested in big quantities since they may be poisonous. Additionally, it's advisable to stay away from a particular spice if you have an allergy to it.