Flavoured Condiments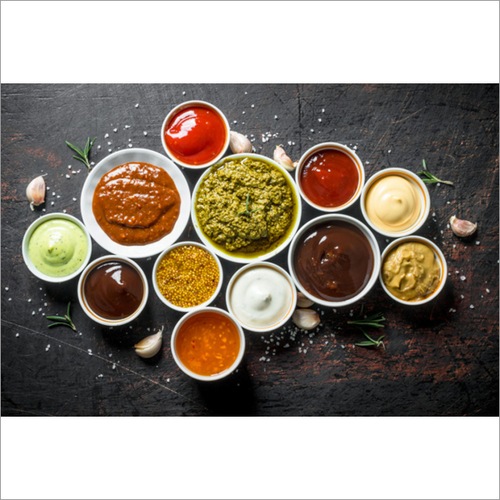 Flavoured Condiments
Product Description
Flavored condiments are sauces or dips that have additional ingredients added to them to give them a unique taste or flavor. These condiments can be used to enhance the taste of various dishes or as a dipping sauce. There are many different types of flavored condiments available. Flavored condiments can be a great way to add variety and flavor to your dishes. They are available in many different varieties, so you can choose the ones that best complement your favorite foods.
FAQ
1. How do condiments impact food?
Ans - Condiments can be used to add colour or texture interest to food in addition to improving the taste and flavour of a dish (for example, they frequently contain flavor-enhancing ingredients like salt and umami).
2. Should you keep all condiments in the refrigerator?
Ans - As a general rule, condiments made with dairy, fruits, and vegetables should be kept in the refrigerator while those with vinegar, sugar, salt, and alcohol are probably okay to leave out (but may benefit from a stint in the cold). Likewise, exercise common sense.
3. What function do condiments serve?
Ans - A condiment is a preparation that is put on food, usually after it has been cooked, to add flavour, improve flavour, or go well with the dish. More specifically, a table condiment or table sauce is a condiment that is provided apart from the cuisine and is tasted by the diner.
4. What advantages do condiments offer?
Ans - There are several condiments that are healthy. For instance, research has demonstrated that many spices and herbs, which the USDA classifies as condiments, contain significant levels of antioxidants, which are substances that inhibit and delay cellular damage-causing processes in the body.